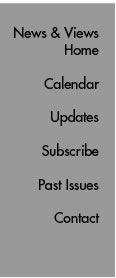 Another Milestone: Publication Provides First Scientific Report of Scripps Florida Labs
By Mika Ono
This week, The Scripps Research Institute published its first Scientific Report covering its Florida campus, providing a picture of the budding scientific operation in West Palm Beach county.
The report, which was submitted to the Scripps Florida Funding Corporation as part of the institute's agreement with the State of Florida, shows just how far the campus has come in the 15 months since plans for it were announced.
During these months, Scripps Florida attracted 11 principal investigators and a total of 53 employees, who have worked together to establish labs in biomedical research, advanced technology, and drug discovery. Their specialties include biochemistry, neurobiology, infectology, genome technology, informatics, proteomics, DMPK, lead identification HTS assay development, and medicinal chemistry.
"This report should provide an important reference for those interested in how the science is developing at Scripps Florida," says Keith McKeown, vice president for communications and public relations. "We're delighted to welcome the work of Scripps Florida as part of our publication family."
This year, for logistical reasons the Florida labs were covered in a separate report. Next year, reports from the Florida labs will be integrated into a larger scientific report, providing a comprehensive review of all science at Scripps Research. The institute's annual Scientific Report includes submissions from principal investigators, overviews from department chairs, and a list of recent scientific awards and honors. The report is one of the institute's longest-standing publications, dating back until 1963, not long after pioneering immunologist Frank Dixon and his team arrived in La Jolla.
Jann Coury of the Scripps Research Office of Communications is responsible for the publication's project management. Deadlines, she says, are always just around the corner. "Congratulations to the Florida scientists for completing their reports in record time," she says, "but it won't be long before I'll be asking for another one!"
The report is available on the Scripps Florida section of the Scripps Research web site: http://www.scripps.edu/florida/e_index.html.
(See PDF file)
Send comments to: mikaono[at]scripps.edu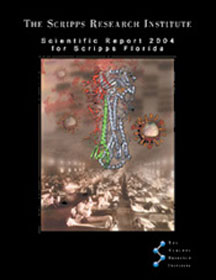 The Scripps Florida Scientific Report for 2004.