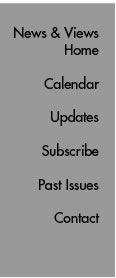 Generous Gifts Make Possible Merit Awards for Graduate Students
By Mika Ono
The Scripps Research Institute Office of Graduate Studies has announced the names of nine students in the Kellogg School of Science and Technology who have been selected to receive merit-based fellowships. New this year is support from the Gustavus and Louise Pfeiffer Research Foundation, the Novartis Institutes for Biomedical Research, and the Bagel Fellowship. Increasing the amount of their support are The Fletcher Jones Foundation and Lesly Starr Shelton.
"Congratulations to the award winners," says Jeffery Kelly, dean of graduate studies and vice president of academic affairs, "and many thanks to the generous donors. We appreciate their support of the outstanding young scientific talent in the Scripps Research graduate program."
The awards are as follows.
The Gustavus and Louise Pfeiffer Research Foundation grant will pay the stipends of three first-year Ph.D. candidates—Andrea Nold, Joie Garfunkle, and Steven Brown. The Gustavus and Louise Pfeiffer Research Foundation makes grants to tax exempt institutions for projects or programs carried out in the United States for advancement of medicine and pharmacy, including scientific research, post-graduate scholarship and fellowship assistance, and studies in nutrition, blindness, deafness, and other physical disabilities.


The Novartis Graduate Fellowship in Organic Chemistry for Minorities and Women goes to Yang Xu of the Janda lab. The Novartis fellowship offers a year of support to a graduate student in organic synthesis, including applications of synthesis to biological problems, or computational chemistry as applied to organic or biological systems.


The Bagel (pronounced "ba-jel") Fellowship has been awarded to Sara Brownell.The Bagel Fellowship, endowed during the past academic year by an anonymous gift of $425,000, supports a student in his or her first critical year of study.


This year's Fletcher Jones Scholars are Ranjan Mannige and Theresa Kay Tiefenbrunn. Thanks to a recent gift made to endow a second graduate fellowship at the Kellogg School, the Fletcher Jones Foundation is now supporting two first-year students. The Fletcher Jones Foundation was established in 1969 by Fletcher Jones, co-founder of Computer Sciences Corporation, two years before his untimely death in an airplane crash at the age of 41. The foundation specializes in grants to private colleges and universities, particularly those in California.


The Lesly Starr Shelton Award for Excellence in Chemistry Graduate Studies, which provides a stipend supplement plus an academic allowance to be used for conference attendance, books, or other educational materials, has been awarded to Jianming Xie of the Schultz lab and Hao Xu of the Nicolaou lab. Lesly Starr Shelton is a generous benefactor who has provided in her estate for an endowed scholarship in the chemistry graduate program at Scripps Research. In addition, she has supported a student through funding of this award for the past several years. She is deeply interested in encouraging students in the sciences, and has established similar awards at other institutions.
The selection criteria for these fellowships were excellence in research as demonstrated by publications and academic accomplishments.
Send comments to: mikaono[at]scripps.edu

---
"We appreciate [donors'] support of the outstanding young scientific talent in the Scripps Research graduate program."
—Jeffery Kelly
---