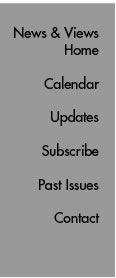 In Brief
Essential Science Indicators Ranks Barbas in Top One Percent
According to ISI Essential Science Indicators, a web-based data file reflecting scientific papers published in the last decade, Professor Carlos Barbas III of The Scripps Research Institute ranks in the top one percent in terms of total citations in the fields of chemistry, microbiology, and biology and biochemistry. An interview with Barbas, who holds the Kellogg Chair in Molecular Biology at Scripps Research's Skaggs Institute for Chemical Biology, can be found at: http://www.in-cites.com/scientists/CarlosFBarbas.html.

Mueller to Speak as Part of Faculty Lecture Series
Associate Professor Ulrich Mueller of The Scripps Research Institute will speak on "The Sound of Silence: Mechanosensory Perception and Deafness" as part of the Faculty Lecture Series Wednesday, December 15. The lecture will be held at 5 PM in the Timken Amphitheater, Scripps Clinic, 10666 North Torrey Pines Road.

Scripps Research to Host Neuroscience Symposium
Scripps Research will host a Neurosciences Symposium on Saturday, January 8, in the Valerie Timken Amphitheater. Chairing the event will be Nobel laureate Paul Greengard of The Rockefeller University. Speakers will include investigators Semir Zeki (9 - 9:45 AM), Jean-Pierre Changeux (10 - 10:45 AM), Lisa Stowers (11:15 AM - noon), Benjamin Cravatt (1:15 - 1:50 PM), Jerold Chun (2:05 - 2:40 PM), Ardem Patapoutian (3 - 3:35 PM), and Tamas Bartfai (3:40 - 4:25 PM). A round-table discussion will conclude the event at 4:40 PM. For more information, contact Dee Bankowski at x4-9792.

Make a Difference, Give to the United Way
Over the next few days, you have the chance to make San Diego County a stronger community. By giving $5, $10, $20 or more per pay period to the United Way/CHAD Campaign, you can make a difference in someone's life. Your donation to the United Way will support a network of services that together serve entire families and neighborhoods. You'll be helping the United Way invest in children and youth, strengthen families, empower seniors and disabled, promote health and wellness, and meet emergency needs in our community. Look to your e-mail or contact Human Resources, x4-8487, for more information on how to sign up.

Prescription Plan Update
AdvancePCS, the current prescription plan provider for Scripps Research, merged with Caremark earlier this year. Over the next few months, employees will begin to see the AdvancePCS name transition to Caremark. Aside from the name change, Benefits Administration anticipates that this will be a seamless and transparent transition and that benefits, co-pays, and levels of service will remain the same. Employees can continue to use the same card when filling prescriptions. If you have questions or concerns about this transition, please contact Benefits at x4-8487 or benefits@scripps.edu.
Send comments to: mikaono[at]scripps.edu

Crafts Create Crowd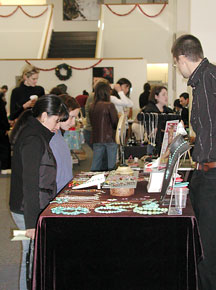 Handmade pottery, photos, chocolates, and other gift items drew a large turnout to the Fall Craft Fair on December 10. All items were created by Scripps Research employees or their families. Photo by Kevin Fung.