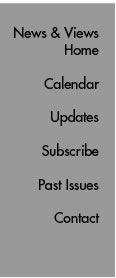 In Brief
Mueller to Speak as Part of Faculty Lecture Series
Associate Professor Ulrich Mueller of The Scripps Research Institute will speak on "The Sound of Silence: Mechanosensory Perception and Deafness" as part of the Faculty Lecture Series Wednesday, December 15. The lecture will be held at 5 PM in the Timken Amphitheater, Scripps Clinic, 10666 North Torrey Pines Road.

Make a Difference, Give to the United Way
Over the next few days, you have the chance to make San Diego County a stronger community. By giving $5, $10, $20 or more per pay period to the United Way/CHAD Campaign, you can make a difference in someone's life. Your donation to the United Way will support a network of services that together serve entire families and neighborhoods. You'll be helping The United Way invest in children and youth, strengthen families, empower seniors and the disabled, promote health and wellness, and meet emergency needs in our community. Look to your e-mail or contact Human Resources, x4-8825, for more information on how to sign up.

Holiday Shopping at the Fall Craft Fair
The Fall Craft Fair, featuring items made by Scripps Research employees and their families, will be held on Friday, December 10 from 11 AM to 2 PM in the galleria of the Immunology Building. Items for sale will include jewelry, chocolates and candies, photography, pottery, exotic plants, baked goods (for humans and dogs), holiday decorative items, and more. For more information call Bonnie Towle x4-2167 or email btowle@scripps.edu.
Send comments to: mikaono[at]scripps.edu

Scripps Research Technician Wins Racing Championship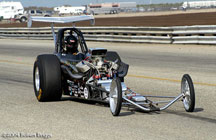 Following his victory in 2002, Dan Schrokosch of Scripps Research Engineering won the 2004 NHRA Goodguys Rod and Custom Association West Coast Championship Series, a quarter-mile drag racing series of pre-1973 design cars. His time was 8.60 seconds at 160 miles per hour. Photo by Robert Briggs.