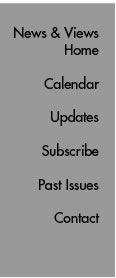 In Brief
Thorpe Wins Three Championships and 27 Medals in 2004
Scripps Research Security Guard Karl Thorpe has had another banner year in senior track and field meets, where he sprints in the 50-, 100-, and 200-meter dashes. Thorpe, who competes in the 65- to 70-year-old age bracket, laid claim to three championships this year, including the USATF Masters Track & Field Championships, and the California State Games held in San Diego. In addition, he won 20 gold, five silver, and two bronze medals.
"I would like to thank all my friends and co-workers at Scripps for the encouragement this year," says Thorpe. "Next year I am going to national senior games in Pittsburgh, Pennsylvania, June 6 to 12. I'm looking forward to it."

Lunch and Learn: "Are You in Your 'Right' Mind?"
Lee Silber, the award-winning author of 11 books including "Organizing from the Right Side of the Brain" and "Time Management for the Creative Person," will present "Are You in Your 'Right' Mind?" on Wednesday, December 1, from noon to 1 PM as part of the ongoing Lunch and Learn seminar series. The talk will help participants to discover their brain type and learn ways to work with their natural tendencies rather than struggle against them. In addition, topics will include left- and right-brain approaches to time management, problem solving, relationships, and work styles. The event will be held in the Beckman Center's Keck Amphitheater. Reservations are not required.

Holiday Shopping at the Fall Craft Fair
The Fall Craft Fair, featuring items made by Scripps Research employees and their families, will be held on Friday, December 10 from 11 AM to 2 PM in the galleria of the Immunology Building. Items for sale will include jewelry, chocolates and candies, photography, pottery, exotic plants, baked goods (for humans and dogs), holiday decorative items, and more. For more information call Bonnie Towle x4-2167 or email btowle@scripps.edu.

News&Views Celebrates Thanksgiving
News&Views will not be published next week due to the Thanksgiving holiday. Weekly publication will resume Monday, December 6.
Send comments to: mikaono[at]scripps.edu