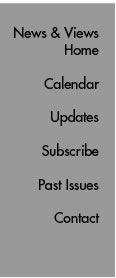 Mother Raises More Than $300,000 for Lab Investigating PKU
By Mika Ono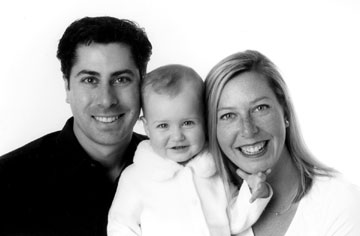 The Piziali Family: Rob, Tia, and Alison.
It's amazing where an idea can take you.
Alison Piziali had the idea that she could make a difference for her young daughter, Tia, and other children afflicted with phenylketonuria (PKU) by raising money to support research in a Scripps Research Institute lab.
After her daughter Tia was diagnosed with PKU soon after birth, Alison had quickly become aware of the limitations of the current treatment strategy for the disease. Children with PKU, an inherited metabolic disorder, cannot convert phenylalanine, a part of a protein, to tyrosine in the liver. Phenylalanine thus becomes toxic to the central nervous system, especially the brain.
Since phenylalanine occurs in meat, fish, all dairy, flour, and even fruits and vegetables, children with PKU must go through life on a severely restricted diet and be monitored by frequent blood tests. Limiting phenylalanine in the diet is so difficult that many fail to avoid behavioral and intellectual problems as adolescents and adults. Since drug development takes so long, Alison knew she needed to act immediately if she wanted to see new therapeutics available for Tia when she became an adolescent.
Alison and her husband Rob Piziali wanted a better fate for their daughter. That's when they learned about work in the laboratory of Scripps Research Professor Raymond Stevens.
The Stevens lab, which uses crystallography and biochemistry to probe the structure and function of molecules involved in neurotransmission and neurochemistry, is conducting a series of studies on a potential treatment strategy for PKU and similar diseases, together with BioMarin Pharmaceuticals. This research has been showing the promise of using natural cofactors to provide some protection against the toxic effects of phenylalanine for patients with mild PKU and an enzyme replacement strategy for patients with severe PKU.
Alison wondered how she could raise money for the Stevens lab and speed investigations toward new treatments for her daughter and others with PKU. Mulling the question over, she hit on the idea of throwing an event, which she dubbed "Tuxes for Tia and All People with PKU," in San Francisco. The initial goal was to raise $75,000 to support a fellowship in the Stevens lab named the "Tia Piziali Fellowship for PKU Research." Alison also hoped the event would raise awareness about the disease.
The response to the event was good—very good. In fact, Alison soon realized that the room she had booked for the event wouldn't hold all the people who wanted to attend. She changed the venue to the Ritz-Carlton.
In the meantime, Alison's parents, Richard and Virginia Michaux, stepped up to support the cause, donating $75,000 for the fellowship and enabling Stevens to continue moving forward with his research plans. Over and above that contribution, the Michauxs gave $30,000 to support PKU research in the lab. And Alison's in-laws, Robert and Kathy Piziali, donated another $25,000.
When the evening of the event arrived October 15, everything was set for an elegant evening of cocktails and dancing. Volunteers greeted guests as they arrived. Numerous items, which had been generously donated, were sold in silent and live auctions. Raffle tickets offered guests the chance to win a 10-night trip, five nights in Vail, Colorado, followed by five nights in Cabo San Lucas, Mexico with private jet transportation between locations and home.
When the proceeds for the evening were tallied (without counting the prior Michaux and Piziali gifts), they totaled more than $300,000.
Stevens, for his part, calls the fund raising events "incredible" and states that it has unequivocally accelerated his work on PKU therapeutic development.
" [Tuxes for Tia] was one of those lifetime events that goes beyond words and that I will always remember with absolute amazement," he says. "Now it is up to us to accomplish our task of developing PKU therapeutics on a similar level."
For more information on Tuxes for Tia, see http://www.tuxesfortia.com/.
Send comments to: mikaono[at]scripps.edu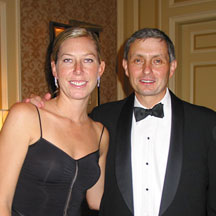 Alison Piziali organized the event "Tuxes for Tia and All People with PKU," which raised more than $300,000 for PKU research in the laboratory of Professor Raymond Stevens (above). The evening also served to raise awareness of the disease.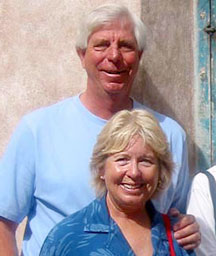 Alison's parents, Richard and Virginia Michaux, stepped up to support the cause, donating $75,000 for a fellowship and an additional $30,000 to support PKU research in the Stevens lab.

Alison's in-laws, Robert and Kathy Piziali, donated $25,000 toward PKU research.