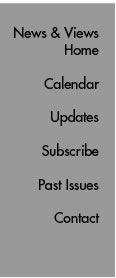 Snapshot:
Princeton Allen
Title: Glasswasher.
Duties: Collecting and delivering glassware for labs in the Molecular Biology building. Treating the glassware according to the needs of each lab—for example, selectively soaking the glassware, sterilizing it, hand washing it, and/or preparing tissue culture. "Most people don't realize how complicated cleaning glassware is. It is an art that takes organization, preparation, and knowledge."
Shift: 3 – 11:30 AM. "Rush hour traffic is not a problem. You might be surprised, though, by how many people I find in the lab at 3 AM."
Started at Scripps Research: 1999.
Thoughts on Scripps Research: "Scripps is a unique place. People here have been very supportive of my schooling and community activities."
Education: Bachelor's degree from Golden Grain Bible College and Seminary in Ventura County. Pursuing a master's degree with the School of Messiah in San Diego.
Community Involvement: Service through New Covenant Messianic Ministries, College Lutheran Church, and Covenant Ministries International. Projects include assisting battered and abused women, helping individuals recovering from substance abuse, promoting tolerance among different religious communities, educating groups on HIV prevention, counseling youth, and running after-school programs. "I love people. And I love seeing people's lives changing for the better."
Other Extracurriculars: Playing basketball and volleyball, visiting art museums, and spending time with his family—his wife, Tammy, 17-year-old daughter, Runnet, and 10-year-old daughter, Tamishiah.
Send comments to: mikaono[at]scripps.edu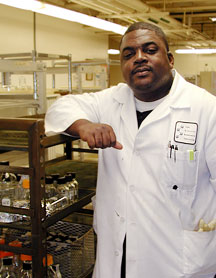 "You might be surprised... by how many people I find in the lab at 3 AM," says Glasswasher Princeton Allen. Photo by Kevin Fung.