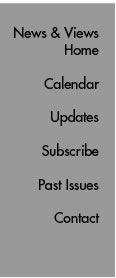 Snapshot:
Bob Turner
Title: Director, BioMedical Graphics.
Duties: Overseeing The Scripps Research Institute's BioMedical Graphics facility, which offers the institute's scientists and staff audio-visual, graphic arts, photography, and other imaging services.
Goals: "We are here to help. We aim to dependably meet the needs of scientists and staff by providing high-quality service in the least amount of time, at the least cost. Our staff members have the talent and the experience to succeed in this."
Favorite Part of the Job: "The variety. No two days are the same. One day I could be involved in specimen imaging and photomicrography, the next in trimming large format posters and setting up A/V equipment for a scientific lecture."
Job's Biggest Challenge: "Deadlines."
What Customers Can Do to Help: "Anything scientists or staff can do to anticipate their needs is greatly appreciated." Call BioMedical Graphics at x4-8233 with questions about the standard turnaround time for a project.
Started at Scripps Research: 1979.
Biggest Changes Over the Last 25 Years: Turner has observed the enormous growth of the institute and the introduction of new technology from fax machines to digital photography. "We are constantly trying to stay ahead of the technology curve." Currently, the department is upgrading its DVD duplication capabilities so it will be able to batch process copies of lectures and other events. Turner is also researching a videoconferencing network between Scripps La Jolla and its new campus, Scripps Florida.
Background: Grew up in Verona, New Jersey. Volunteered for military service as a hospital corpsman. Graduated from the US Naval Medical Photography School, worked as a medical photography technician, and served with the US Marines in Vietnam. Went on to work as a medical photographer for Forsyth Dental Center in Boston, then the V.A. Medical Center in La Jolla. Graduated from National University with a MBA in Health Care Administration before beginning his career at Scripps Research.
Professional Involvement: Turner has been involved in professional organizations for the past 35 years, primarily the BioCommunications Association (formerly the Biological Photographic Association). Currently, Turner chairs the management board of The Journal of Biocommunication, which was re-launched in an online format in April (see www.jbiocommunication.org). Turner is also taking photographs for a project to catalog all the plant life on the grounds of the Quail Botanical Gardens in Encinitas.
Honors: Numerous. Most recently, Turner was named 2004 Schmidt Laureate, the BioCommunications Association's highest honor for "outstanding contributions to the progress of biological communications."
Other Extracurriculars: Pleasure photography; road trips with his wife, Betsy Ann; visits with his grown children, Kim, Bob, and Chuck, and grandchildren, Sarah and Danielle, six and two years old.
Send comments to: mikaono[at]scripps.edu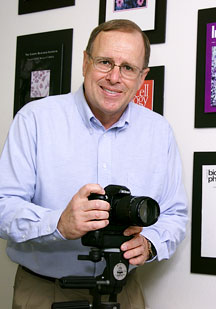 "We are here to help," says Bob Turner, director of BioMedical Graphics. Photo by BioMedical Graphics.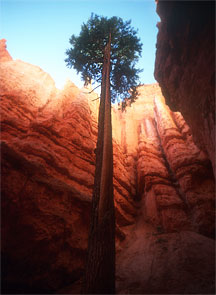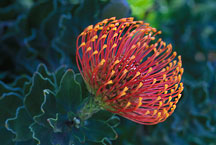 In his spare time, Bob Turner takes pictures of his travels and documents the array of plant life at the Quail Botanical Gardens.