Soccer for Scientists
By Mika Ono
Why is soccer the most widely played team game in the world?
According to Research Associate Seongho Moon, who organizes a soccer team composed of players from The Scripps Research Institute and nearby biomedical organizations, soccer has a lot of things going for it.
"First, we don't need complicated equipment—we need only a ball and ground to play," says Moon. "Second, it is dynamic. We have to run all the time. Third, it is a tactical game, with both defense and offense. Finally, in contrast to baseball, which tends to depend on a few excellent players, in soccer all the players have to play well for good results."
Moon, who arrived in Scripps Research's Case lab last November, found a fledgling soccer club at Scripps Research that had come together to play in the San Diego Korean Association's competition the previous summer, but had disbanded in the off-season.
Moon threw his enthusiasm for the game and his organizational talents into building up the club. Going building to building at the institute, Moon recruited new players and grew the club from 10 to 40 members. He expanded the limited season to a year-round endeavor, with games about every other week.
Soccer, Moon believes, is particularly good for scientists. "Almost every day, we spend most of our time in the lab," he says. "We need physical activity to refresh our brains. Our team's motto is 'a sound mind in a sound body.'"
Additional benefits for scientists include meeting peers at Scripps Research and at surrounding institutions such as The Salk Institute and the University of California San Diego (UCSD). The collegiality generated by the team spilled over into the scientific realm when the first Korean science park symposium was held at Scripps Research last August.
While the team was initially composed of Korean scientists, Moon makes a point of welcoming players of all nationalities. Today, the team is composed of players from five countries. "Our team's best player is Serbian," comments Moon.
Moon admits he tends to stay on the sidelines during games in his role as head coach, letting the captain, Gyungyoun Kim, a research associate in the Boger lab, lead the play on the field. "Everyone criticizes my play," he laughs. "They say I'm too slow."
Goalie Wonpil Im of the Brooks lab acts as president of the club, taking care of organizing the team's logistics—equipment, supplies, and donations. "Andrew's Café and several individuals help us with uniforms and other needs," Im notes.
Andrew Shih of Andrew's Café is an enthusiastic supporter. Shih recalls last June's playoffs: "There were so many teams—some of them even had cheerleaders! Even though other teams had younger players, our team had a great spirit of competition."
For more information about the soccer club, contact Moon, x4-9788 or e-mail moons@scripps.edu.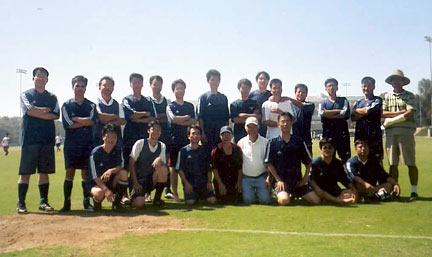 Scientists from five organizations in addition to Scripps Research have come together to play on the team.
Send comments to: mikaono[at]scripps.edu