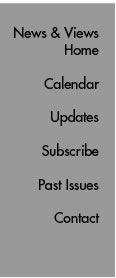 Noted Swedish Scientist to Join Scripps Florida Faculty
The Scripps Research Institute has announced the appointment of Claes Wahlestedt, an internationally recognized researcher in the field of pharmacological treatments for nervous disorders, to the faculty of its new Palm Beach County, Florida, operations. He will be professor of biomedical sciences and director of pharmagenomics.
Wahlestedt, 45, has been serving since 1997 as founding director of the Center for Genomics and Bioinformatics at the Karolinska Institute in Stockholm, Sweden. He is also a department chair and professor at the center.
"Claes is another shining star among the world-class scientists attracted to Scripps Florida," said Scripps Research President Richard A. Lerner. "He will continue to make many important contributions in the fields of neurobiology and molecular pharmacology at our new facilities."
At Scripps Florida, Wahlestedt will coordinate efforts to help discover and develop novel drugs to treat diseases of the nervous system. He also has a mandate to search for individual human DNA variations and biomarkers of various diseases. Epidemiological aspects of his work will be addressed in part through continued collaboration with colleagues and institutions in Sweden.
"I'm very much looking forward to pursuing my work in Palm Beach County among some of the most respected researchers in the world," Wahlestedt said. "To be in at the beginning of this new enterprise, with all the expertise of Scripps Research behind it, is a tremendously exciting opportunity."
In recent years, Wahlestedt has been involved in post-genomic efforts aimed at discovering how genes are expressed and function in living cells. He has a long-standing interest in developing improved RNA targeting strategies through the use of antisense RNA, siRNA or small molecules that target RNA.
He is expected to take up his responsibilities at Scripps Florida in January of 2005.
Wahlestedt received both his medical degree and Ph.D. from Lund University in his native Sweden. He did postdoctoral work at the Georgetown Institute of the Neurosciences at Georgetown University in Washington, D.C. (1987-88), and at the Institute for Immunology at Kyoto University, Japan (1988-89).
He then spent four years as assistant professor in the Division of Neurobiology, Department of Neurology and Neuroscience at Cornell University Medical College in New York, and was subsequently adjunct professor of biochemistry, and pharmacology and therapeutics at McGill University, Montreal. He has spent a decade directing drug discovery or genomics efforts in the pharmaceutical industry for Astra-Zeneca, Pharmacia & Upjohn, and Pharmacia Corporation.
This year he was appointed adjunct chief scientist at RIKEN Genomic Sciences Center in Tokyo, Japan. He is the author of more than 150 papers in major scientific journals in his field.
Dr. Wahlestedt and his wife, Lisa, who is also a medical doctor, have two children, ages 6 and 4 years.
Send comments to: mikaono[at]scripps.edu

Professor Claes Wahlestedt will study drug treatments for nerve system disorders.