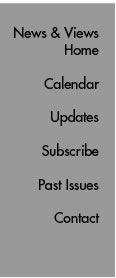 Antibody Production Facility Stands Behind Its Work
By Mika Ono
The Scripps Research Institute's Antibody Production Core Facility has been in high demand lately, and it's easy to see why. The recently modernized and reorganized facility offers Scripps Research investigators high-quality, efficient, and individualized service.
"We can offer more personal attention and interaction than a company can," says Scientific Associate Diane Kubitz, who directs the facility. "We take the time to trouble-shoot difficult problems, and we are open to special requests. If researchers want something customized all they have to do is ask."
Antibodies, when produced naturally in our bodies, act as an important defense against infectious agents. Researchers have also found antibodies can be useful in the treatment and diagnosis of some diseases, as well as the detection of drugs, infectious agents, and other substances in the blood. And antibodies have become an important tool in the laboratory.
While some investigators produce antibodies in their own labs, others find it more efficient to use outside resources for this task. The Antibody Production Core was established four years ago to serve these investigators and to assist in the institute's compliance with National Institutes of Health guidelines encouraging in vitro antibody production.
"If you've never done antibody development before, even routine work can be daunting," says Diane (who asked that her first name be used in this article). "We provide the necessary expertise for a wide variety of projects, from the simple to the complex."
Diane explains that since antibody production is a labor-intensive process, experienced technicians make a difference in its success rate. "The technicians at the facility work on these projects all the time," she says. "They have learned what it takes to make different kinds of projects work. We have a lot of experience and a really great team."
As long-time manager of Scripps Research President Richard Lerner's laboratory, Diane has been involved in antibody production for 24 years. In addition to the technicians at the Antibody Core Facility, she currently supervises nine technicians in the Lerner lab, who produce and purify antibodies for his research.
When Diane also began directing the Scripps Research Antibody Production Core Facility in the spring of 2003, she started by taking an honest assessment of the facility's strengths and weaknesses, aiming to make it a real asset for the institution. Today, feedback from scientists who use the facility is highly positive.
Professor Linda Sherman is one of the investigators who uses the facility. "I think [the staff members at the Antibody Production Core Facility] are extremely knowledgeable, highly skilled, and very efficient," she says. "Diane is very accommodating and a pleasure to deal with."
The Antibody Production Core Facility now offers:
Continuous staffing, including weekends and holidays. "We don't shut down for Christmas," says Diane. "We don't shut down for summer break. If there is a project going on, there will be someone to take care of it. Cells are living things. They need attention."

State-of-the-art equipment. Recent purchases include technology that enables staff to make antibodies more quickly and of higher purity.

More complete packages. "If we do more of the work, the principal investigators don't have to think about a project as much," notes Diane, "and we are able to achieve a higher success rate."

New or improved services, including labeling of antibodies for flow cytometry and western blots, and endotoxin-free purification for therapeutic testing.

Liquid nitrogen storage. Investigators can purchase storage space for their cell lines in the core's liquid nitrogen facility. "It's a service we provide for investigators' peace of mind," comments Diane.

Customized quotes for special projects, volume discounts, and "frequent customer" price breaks.

Quality guarantee. "We stand behind our work—if a project doesn't work because of something we do, an investigator doesn't pay for it," says Diane. "No one will be wasting money by coming here."
More information about the facility's services is available at its new web site, at http://www.scripps.edu/researchservices/abcore/. Also look to the site for monthly specials.
Diane encourages investigators to contact her with any questions or concerns they might have—including training of technicians, help with protocols, and acquisition of media and reagents. Currently, the facility is working on several new services, including the development of rat monoclonal antibodies.
Diane holds office hours on Tuesday, from 10 AM to noon in 3050 Science Park Drive, Room 210, and from 10 AM to noon on Thursday, in the Beckman Center, Room 529. She can be contacted at dkubitz@scripps.edu or abcore@scripps.edu, x4-9941, or mail drop SP3.
Send comments to: mikaono[at]scripps.edu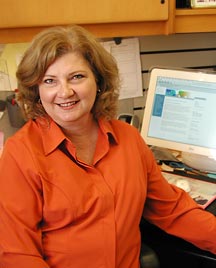 "We provide the necessary expertise for a wide variety of projects, from the simple to the complex," says Diane Kubitz, who directs the Scripps Research Antibody Production Core Facility. Photo by Kevin Fung.