The ability of the mammalian brain (including humans) to endlessly generate new precursor cells (stem and/or progenitor cells) throughout adulthood that maintain the structure and function of the brain changed the dogma that new glia and/or neurons were born only during development. Emerging research has demonstrated that the new phenomena "adult neurogenesis – the persistence of the entire process of neuronal development throughout adulthood" occurs in several brain regions including the medial prefrontal cortex (mPFC) and hippocampal subgranular zone (SGZ). Progenitors born in the mPFC are mostly gliogenic (oligodendrocytes) and those born in the SGZ are mostly neurogenic. Notably, the mPFC and hippocampus are involved in important stages of drug abuse. For example, the PFC has been implicated in several neurobiological phenomena associated with compulsive drug-seeking, and the hippocampus is implicated in forming context-specific memories associated with reinstatement of drug-seeking. Such roles associated with compulsive drug-seeking and context-specific memories may be hypothesized to involve gliogenic and neurogenic mechanisms. The focus of our laboratory is to determine if and how newly born cells in the mPFC and SGZ are affected by drugs of abuse.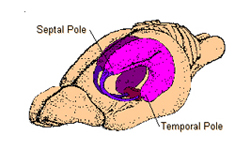 Location of the hippocampus in the adult rat brain, the hippocampus is colored in hot pink
Compulsive intake or escalation of intravenous drug self-administration is observed in rodents with extended access to many drugs of abuse. Therefore, intravenous self-administration holds significant clinical relevance and may provide a useful approach to understanding the neurobiological mechanisms responsible for the transition from drug use to escalation in intake. Importantly, the voluntary behavioral paradigm for compulsive drug intake may represent a particularly suitable model for testing the hypothesis that alteration in adult brain plasticity (such as gliogenesis and neurogenesis) by the drug is partly responsible for the addictive behavior.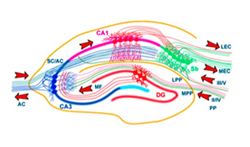 Trisynaptic circuitry of adult hippocampal neurons-The dentate gyrus (DG) of the hippocampus makes new neurons postnatally throughout adulthood.
We have recently shown that methamphetamine self-administration (a highly abused drug in the Southern California region with street names such as speed, meth, chalk, ice, crystal, glass) decreases gliogenesis in the adult rodent mPFC and neurogenesis in the adult rodent SGZ. Ongoing research in our laboratory will determine the underlying cellular and molecular mechanisms contributing to methamphetamine-induced decreases in cortical and hippocampal plasticity. Comprehension of how psychostimulants such as methamphetamine act to inhibit new precursors or progenitors in the adult brain will likely shed light on the basic mechanisms regulating adult neural stem cells. Our findings will improve our understanding of the complex mechanisms by which psychostimulants affect brain function and may help generate better therapies to treat methamphetamine addiction.
Newly born neural progenitors in the dentate gyrus of the adult rodent hippocampus.